| | |
| --- | --- |
| Date | 2010/11/20-21 |
| Location | Vienna |
---
During the Barcamp in Vienna I had the opportunity to thoroughly test the Toshiba AC100 Smartbook which comes with Android 2.1 as OS.
---
Look & Feel
Let's start with the good things. My first thought when taking the device was: "Wow, very light, very small." Weighing it at home reveals that it's only 879g including the battery. It also feels nice in the hand and has a very clean look.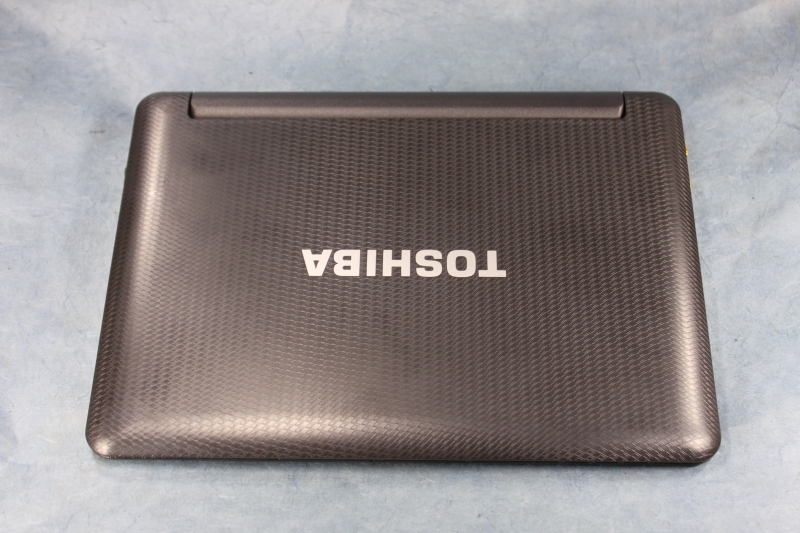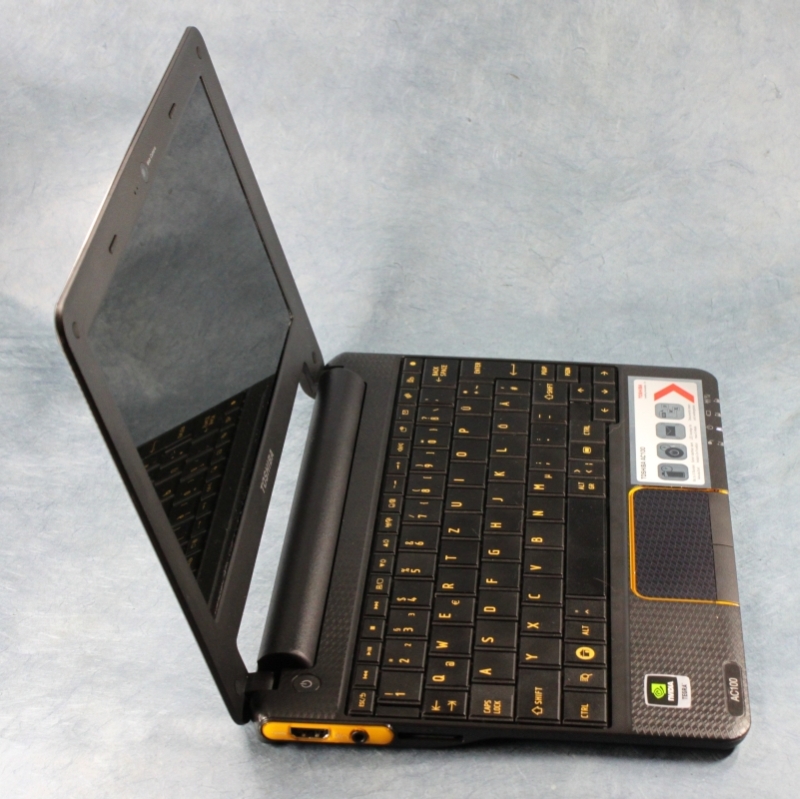 Regarding interfaces you have HDMI Output, Audio/Microphone socket and a SD slot on one side...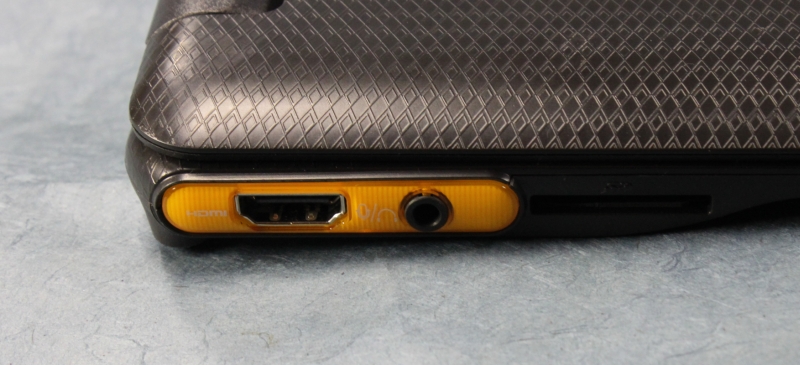 ...and USB, mini USB and Power on the other side.
The keyboard is pretty standard for a netbook. Except some additional keys needed for Android spread randomely across the keyboard, and some quick access keys for various functions on top. The Android Home button is on bottom left next to ALT and the Android Menu button is the one on bottom right next to CTRL. The hardest button to find was the Android Back button, because this functionality has actuality been assigned to the ESC key. You also have some useful buttons on top for disabling the touchpad, taking a screenshot or quick access to the settings. The touchpad works quite well, but unfortunately isn't multi-touch.
Battery life of the device is amazing. I've been using it almost all day during the Barcamp and the battery was still alive in the evening. So the promised time of 8 hours is actually quite correct.
The display is very nice with a resolution of 1024x600 but, and this is where the problems start, it is no touch-display.
Usability & Applications
The OS used for the Toshiba AC100 is Android 2.1 which as it turns out is a bad choice (disregarding the fact that there already is Android 2.2). Now the last thing I want to say is that Android is a bad OS - I'm a huge fan of it and I wouldn't want to have a smartphone without it - but Android is an OS which is meant for touch-displays, and as mentioned above, the Toshiba AC100 does not have touch-capabilities. This leads to a lot of awkwardness in the handling of the device, which otherwise would be very nice. I'll mention some details about this below. In general there are many changes to the OS that would have been necessary to make it usable on a netbook.
After a fresh factory reset you will be welcomed with this screen, where you can make some basic settings.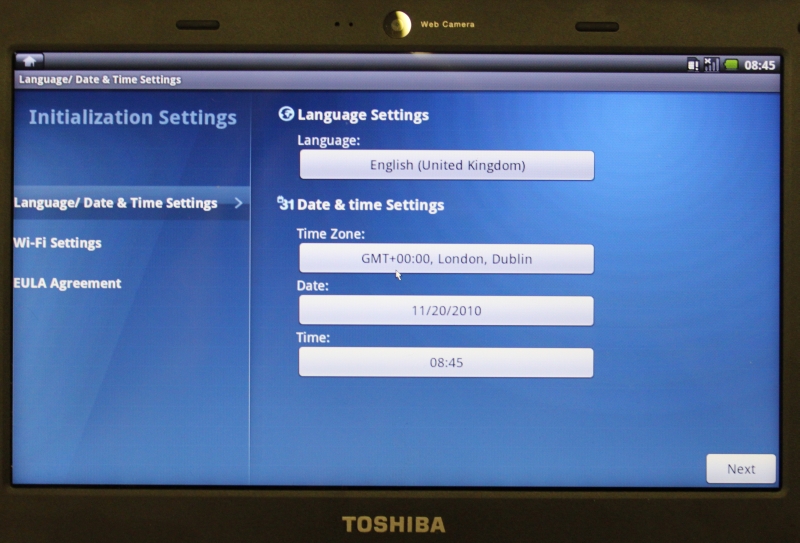 After that (if you have a SIM Card inserted) you will have to enter your PIN code and this is where you will notice the first "bad" thing about the device. The text and entry field appear extremely huge on the screen. This is because Toshiba just uses the normal Android input screen, which is normally meant for much smaller screens.
The same kind of upscaling appears in many other applications and can get very irritating sometimes. Google has stated itself that current Android versions aren't yet meant for larger screens and that we can hope for better support in future versions (probably 3.0 Honeycomb). Hopefully Toshiba is clever enough to provide an update then.
The homescreen is a pretty normal Android homescreen with 5 screens where you can freely place any application shortcuts, bookmarks and widgets. It would have been nice to have a keyboard shortcut for switching between the different screens but I didn't find anything to do that. Normally on a touch-display you would just swipe the screen to the left or right. Without touch you have to drag & drop the screen with the mouse which doesn't feel very natural.
The application launcher which can be reached by clicking the arrow on the bottom of the screen or by pressing the home button comes in two different versions. The first version is a long strip of all applications where again you have a problem of scrolling, because you can't swipe and have to drag & drop. This scrolling problem also appears for long texts like in the browser. While the touchpad supports vertical scrolling by swiping along the right side, this function in many cases doesn't work and also the PageUp and PageDown buttons often fail, so you have to resort to drag & drop for scrolling again.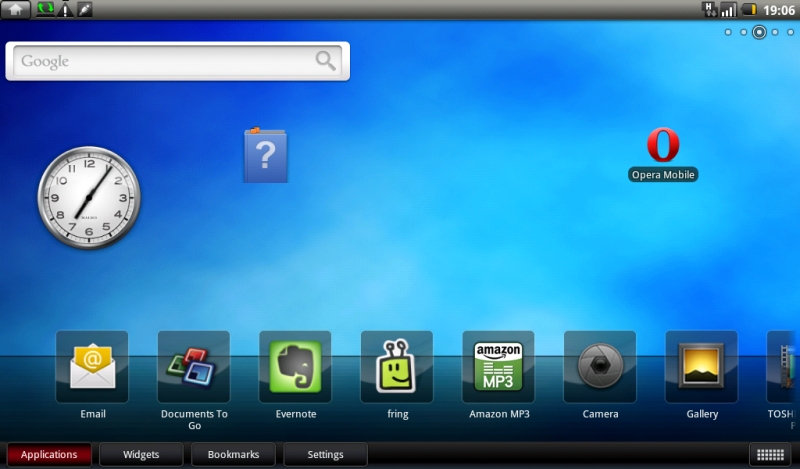 The second version of the application launcher is more useful. It comes in form of a grid of all applications, and you get buttons to switch between screens, so no need for scrolling here.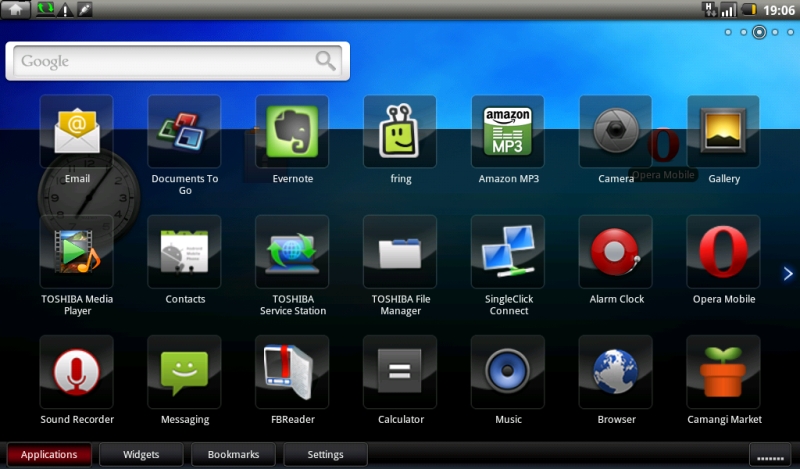 The biggest problem with the device (even bigger than the usability issues) is the fact that it comes without Google integration, because the device didn't pass Google's requirements to be allowed to use those. This especially means that you don't have access to the Android market. While you can get and install applications from other places, the Android market still has the biggest selection, and usually has the best updated applications. The AC100 comes with its own Camangi Market (registration required) where you can find some applications, but now many. Searching for a useful Twitter application wasn't really successful and some of the applications didn't even work after installing since they were outdated versions.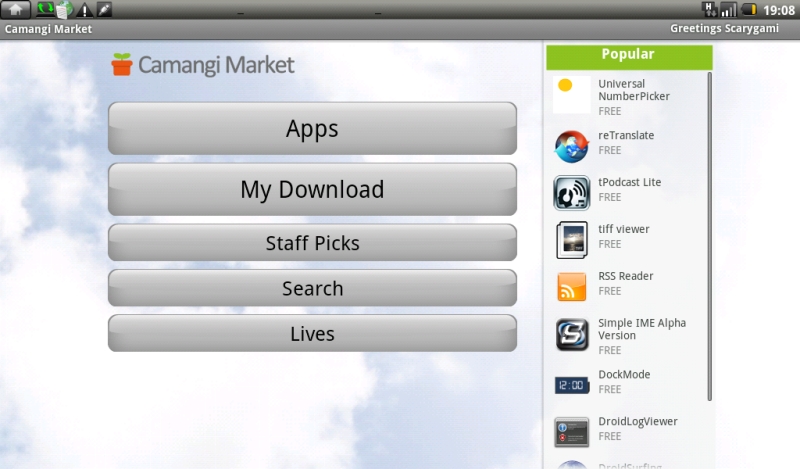 Another thing where the missing Google integration is noticable, is the fact that you can't connect to your Gmail account to import contacts. If you are using an Android phone this is definitely a feature you will miss. You can only connect to Exchange accounts...
Looking a bit at the preinstalled software, you will find the TOSHIBA Service Station, which handles system software updates. On the test device there were already some updates available and this worked without problems.
You can also take screenshots with a dedicated key, which is something that many Android users have been missing for their devices and has only been possible with rooted devices.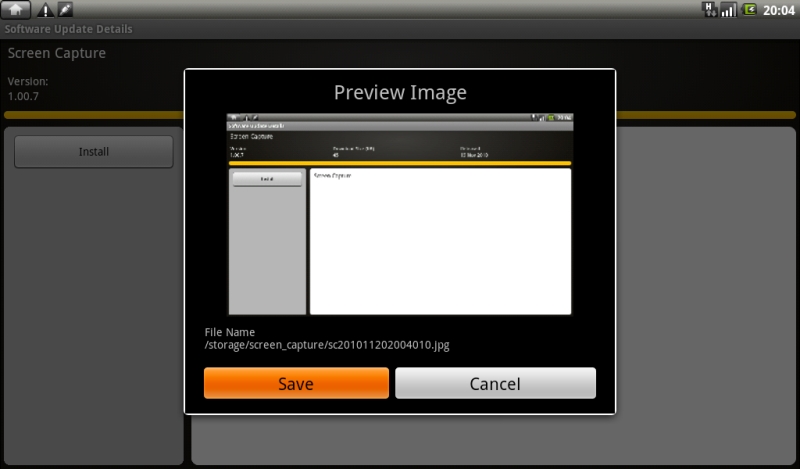 Onboard storage of the device is about 5GB which should should be plenty. Additionally USB storage devices and SD cards can be installed.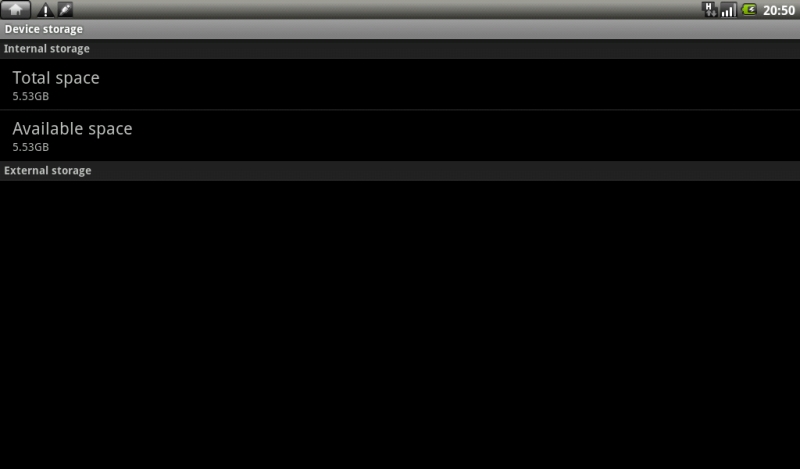 For browsing the storages there is the TOSHIBA File Manager which is very nicely done.
There is also the TOSHIBA Media Center which automatically checks for music and videos on the storage devices and offers playback functionality. Video playback quality is very good.
The preinstalled Opera Mobile and Android browsers are not very usable for this display says. The best alternative here is probably the Dolphin HD Browser, which is specifically designed for larger displays, and offers for example tabbed browsing. During the initialization process of the browser you will run across another problem though. Applications that force the layout to be in portrait mode, will appear rotated on the device, and since the AC100 doesn't have gravity sensors this can become a problem in some cases. Navigating with the mouse to reach the Accept button in this case is very awkward...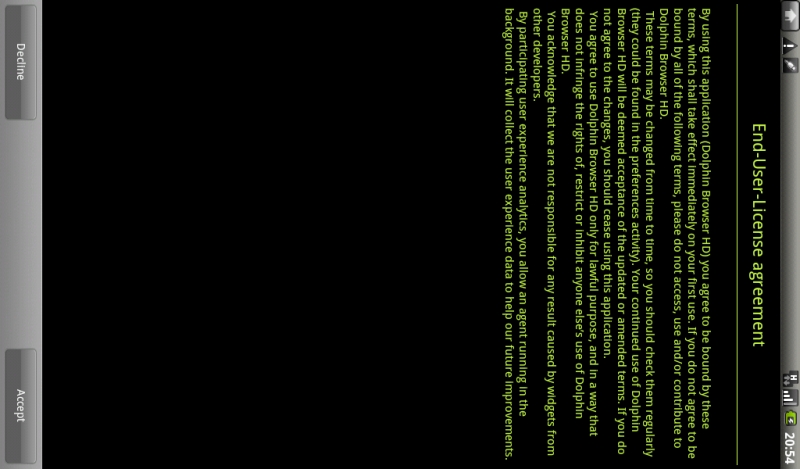 Another really stupid problem I have run across is the way the TAB key is handled. Normally on a login screen you would expect to be able to switch from username to password by pressing the TAB key. Not so on the AC100. You will get a tabbed space after your username. Again this is the problem of using the wrong OS for a netbook.
So to sum this all up: The Toshiba AC100 is a nice piece of hardware, which is very light and has a nice display, but it has the wrong OS installed.
Some hacking
Of course a wrong OS is something that could be fixed, so after a bit of googling I came across this site, which basically describes how to get the most out of the Toshiba AC100: Hacking the Toshiba AC100
What you have to do is to flash the device with a new bootloader which will enable you to boot alternative OS's from SD card or USB stick. The flashing process is rather painless, because NVidia (the AC100 uses a NVidia Tegra chip) provides the necessary flashing tools and the necessary images can be found via the page above. After replacing the bootloader and preparing a SD-Card with Ubuntu (or any other OS of your choice, probably has be linux-based) you can boot into recovery mode.
And from there you can just start into Ubuntu which will be run as a live-image without destroying the installed Android system.
After a while you will find yourself inside the normal Ubuntu setup process.
And are good to start playing with another OS :-)
Ubuntu is definitely far better for this device when it comes to usability. Performance isn't as good as in Android because Ubuntu needs more resources. And sound-drivers are still missing but this will probably be fixed soon.
Of course you can now try different OS's for which you can create live-SD-cards or live-USB-sticks. Chrome OS would also be an interesting alternative, but unfortunately I didn't have the time to try it.
In short: The device has a lot of potential, but isn't very usable when you get it fresh out of the package.
---
---
Back to mainpage
---
This work is licensed under a Creative Commons Attribution 3.0 Unported License.