| | |
| --- | --- |
| Journey to the End of the Night | |
---
Here you will find my report of this event. One thing I can definitely say about it, is that it was a totally awesome event, exhausting but great fun, and if there is another chance to take part in something similar I will definitely do it.
In the following text "we" is to be understood as "a randomly assembled ever-changing group of 2-20 people that met along the way".
---
The Start
After meeting in the Prater and receiving our ribbons, maps and instructions, off we went in the direction of checkpoint 1. We managed to escape from the chasers on and around Prater Hauptallee by mixing in with the crowds in Wurstelprater. Paranoia was rising, even the slightest hint of something red made us jump... ties, caps, bags, shirts... luckily no red ribbons. Things got worse after crossing Ausstellungstraße. Our first attempt to reach the checkpoint on the direct way was thwarted by a chaser and our group split up fleeing in different directions. Taking a detour coming in from another street and a final sprint passing some chasers brought us to the safe zone of checkpoint 1.
---
Checkpoint 1
In this checkpoint we had a very important task to fulfil. The Austrian ministry of Paranormal Activities needed our help in banishing some ghosts. For that matter sacred blood (which luckily didn't taste too bad) needed to be gargled and spat on the ground. This task was the easy part. Getting out of the checkpoint was a different matter...
The problem was that all the streets leading away from the checkpoint were already flooded with chasers. We finally decided to try our luck in a group of about 10 people. I don't know exactly but I think that most of the group got caught. I was almost past the chasers when one caught me from behind and I had to surrender my blue ribbon and put on my red chaser-ribbon instead.
Together with some other chasers we decided to skip Checkpoint 2 since there were probably already enough chasers there and went to Praterstern to catch a tram to checkpoint 3. Being a chaser is definitely much more relaxing than being a runner... but being a runner is definitely more fun. On the way I managed to catch a runner myself, so I got a blue ribbon to keep as a trophy.
---
Checkpoint 3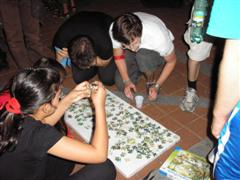 At checkpoint 3 on Wallensteinplatz we received great news. We were able to respawn as runners by fulfilling two tasks. First task was to catch one of the kids that was running around the place, which wasn't really that easy because some of those kids were damn fast. Second task was to answer a question, which was to name four Austrian ministers (thanks to Internet on cellphone to get the necessary information...). After having managed both tasks I received a new yellow ribbon to mark me as a reborn runner.
The main task for runners at this checkpoint was to find a piece to continue an incomplete jigsaw puzzle, which was easy enough.
We then took the tram almost but not quite to checkpoint 4 and then used some back alleys to get closer. Getting near to the safe zone was easy, but getting into the safe zone impossible because all the entrances were heavily guarded by chasers. After two failed attemps from different sides I found myself alone with everyone fleeing in different directions and some people already caught. I kept trying to get close to the safe zone from different directions but always had to sprint away in the other direction after being spotted by chasers. I finally was lucky in getting into the safe zone on a short detour from the south.
---
Checkpoint 4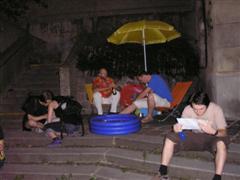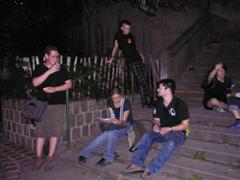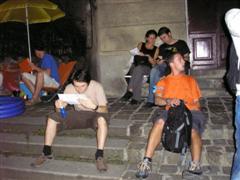 Checkpoint 4 was very nice with the task to drink a "Dreh und Trink" while thinking about a happy childhood memory to get a sparkle in the eyes.
After a short but relaxing time we continued in a group of three to the next checkpoint. After a short sprint to get away from a chaser near the entrance we had a rather easy time to get closer to checkpoint 5 and approach it from behind with no chasers in sight.
---
Checkpoint 5
At this checkpoint we had the very difficult task to choose one of four snacks. I went for the cookies :-)
The rest of the journey was really easy. We went for the next subway station and took the subway directly to Rathaus. A short sprint across the street and we had reached the final safe zone.
---
The End
I was the 12th person (60 finishers total, presumably 217 starters) to reach the end alive at about 23:30, which I think is pretty good. Of course I had been chaser in between, missed checkpoint 2 and was reborn at checkpoint 3. But I did manage two of the most difficult checkpoins (1 & 4) and I definitely did my share of running and sweating, so I think I can be proud :-)
The winner did finish the whole route in just about one and a half hour, which I think is pretty insane. The best chaser had caught 12 runners (as far as I remember).
The night ended with a few relaxing drinks in Metalab and a lot of stories to share with the others.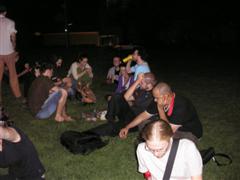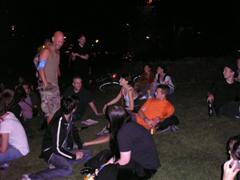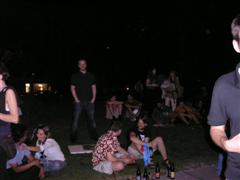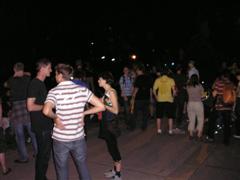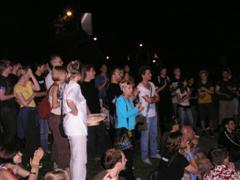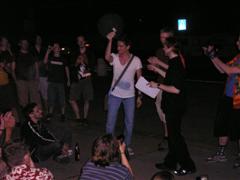 ---
Suggestions for Future Events
While on the whole the event was totally awesome there are some things that might be improved for future events.
Safe zones should be a bit larger. If there are only 3 or 4 streets leading into a safe zone it is obvious for chasers to heavily guard those streets. More entrance streets would distribute the chasers more and offer everyone a fair chance to get in and out of checkpoints.
Also there should be no active chasers allowed directly at the border of safe zones. I don't mind chasers relaxing inside the safe zones, that's what safe zones are for. But I think it is a bit unfair for chasers to wait (sometimes hidden) directly at the border and then jump out at you just when you were about to set your foot in the safe zone.
The platforms of subway stations should be safe zones. For one thing you have hardly a chance to escape when you are waiting for a subway to arrive, for another thing it is dangerous (and forbidden) to run on the platforms.
---
Travel Map
Here's an attempt to reconstruct the way I took through the city.
Blue - Runner / Red - Chaser / Yellow - Revived Runner
Skull - been caught / ! - caught someone / Dashes - Public Transport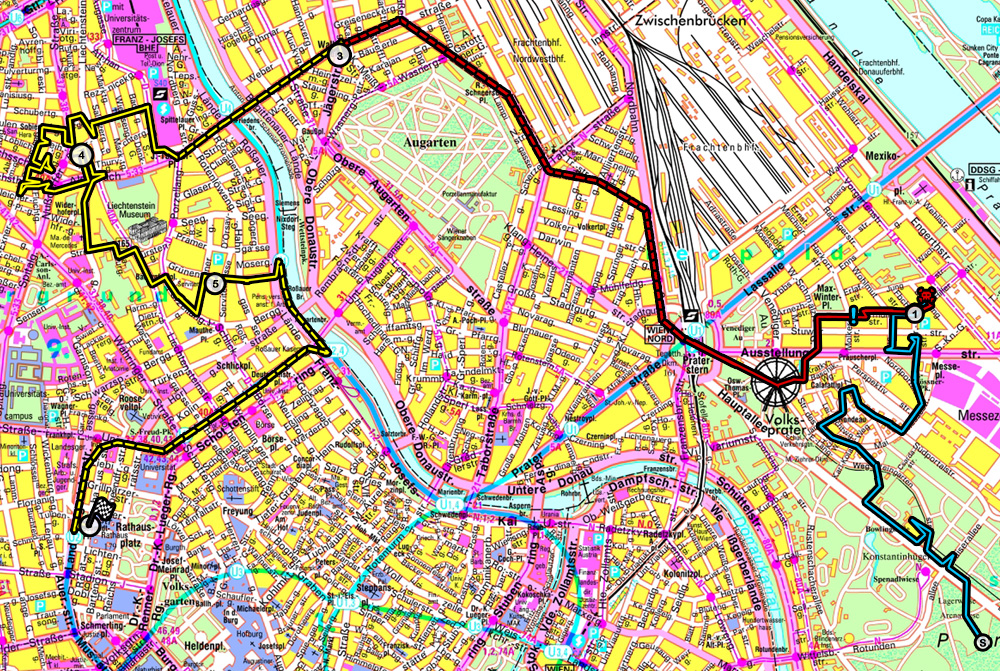 ---
---
Back to mainpage
---
This work is licensed under a Creative Commons Attribution 3.0 Unported License.